Cat
Jump to navigation
Jump to search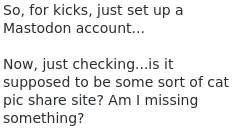 Cat Directory
Since toot.cat is nominally a cat-related instance, we thought we should start keeping a list of cat-related things on the fediverse as a handy reference.
Tooting Cat Accounts on TootCat
cat people
mint "im mint and im like cats."
Other Items
kitty.town (Mastodon instance): domain of the most excellent Ginny McQueen
kitten.exe (Mastodon account)
Not Cat-Focused
meow.social (Mastodon instance) - "focused around the furry community"